DERVISH EXPERIENCE
LIVE SHOW AND EXHIBITION
Every Tuesday , Thursday ,Saturday & Sunday  19:00
Exhibition Opening : 18:15
LIVE SHOW : WHIRLING CEREMONY 
THE SEMA CEREMONY IS A SPRITUAL JOURNEY OF DERVISHES WHIRLING FOR DIVINE LOVE….
The sema  ceremony is one of the most important heritage of Turkish Culture as a tradition of 800 years old . This unique traditional ritual had been proclaimed as Intangible Heritage of Humanity by UNESCO in 2005.
Duration :  60 minutes
THIS UNIQUE EXHIBITION PRESENTS THE HISTORY OF DERVISHES AND THEIR TRADITION WITH A UNIVERSAL VISION ..
Exhibition features  Information displays about dervishes and their ceremony , objects belonging to the world of dervishes  such as clothing , musical instruments and personal tools, Interactive Rumi poems and  sufi music samples, Hyperrealist  style dervish statues and  Video shows .
Ticket Price / Adult : 70 TL   Children ( 7- 12 years old ) : 50 TL ( Effective from 01.01.2018 Adult : 85 TL Children : 60 TL )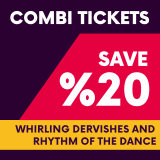 Children under 7 years old is not allowed
Seats are numbered, first booked first served.
Free multilanguage explanation booklet
Free hot and cold beverages